The Cadière d'Azur: a village to discover !
The history of the village
A small village was born. It was named Cathedra (a word meaning seat or rest place or refuge). This name is to be found in the oldest Carta going back to the XIIth century. Later it became Cadiera in the old Provençal dialect, Cadeira: a synonymous of chair, and finally Cadière. As it is stated in Father AMARGIER's recent historical work,the Bishop of Marseilles conceded its rights to the St Côme and Damien's chapel and the surrounding lands to the monks of St Victor's Abbey who began to clear and cultivate it.This act was registered on October 31st 977. However there is another hypothesis !...
read more
The territory of La Cadière d'Azur has been frequented since Neolithic times, this being attested by the serpentine or diorite axes and adzes, and the chipped blades and artefacts that have been found in the "Luquettes" and "Paluns" districts as well as by the scarce moulded earthenware fragments discovered in the "Fontanieu" district. No tangible traces of the Bronze Age men have been found yet. But, on the other hand, during the first Iron Age, from the VIIth to the VIth century BC the territory was occupied by Celtoligurian Camatulici tribesmen whose high perched dwellings (Oppida) among...
read more
You'll find many monuments :
The three gates of the second ramparts of the village : Gate St Jean (XIV°, its leaves are registered in the inventory of historic monuments), La Colle Gate (XIV°) & Mazarine Gate (XVII°)
Its St André Church of the 16th Century,
Its Clock Tower of the 16th Century …
La Cadière is a typical perched village of Provence very authentic. The main square is lined with hundred-year-old plane trees, a good place for café terraces but also for the Provençal Market on Thursday morning. Its sweetness of life is appreciated to relax.
Its countryside offers terraced landscapes with a lot of vineyards and olive groves. Walks in the Defends Forest allows to discover Mediterranean flora and offers amazing points of view the sea and the surrounding hills.
Many painters came to capture the specific light of the azure blue of La Cadière, like André Lhote or Robert Wogenscky. Today still this city inspires artists, craftsmen of art.
Discover our local producers
Meet our artists and craftsmen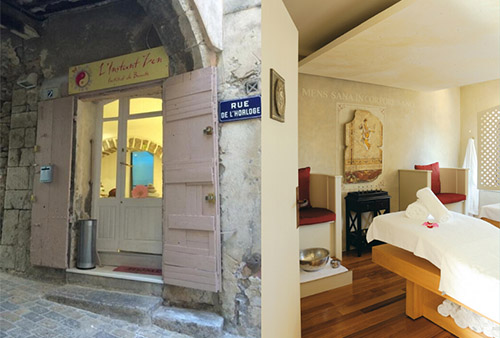 Treat yourself to a wellness activity